There are 1.04 billion daily active users on Facebook. DAILY users. For many of us Facebook has become the place where we look for reviews, find out about events and ask our peers for their opinions on pretty much anything and everything.
Five years ago we would have told you that your business doesn't exist if it doesn't have a website. Today we will tell you that while a website is still an essential part of the medium to large business, even the smallest business won't be taken seriously if it doesn't have a Facebook page.
But there is more to having a business Facebook page than proving your legitimacy as a company.
If used correctly, your Facebook business page can quickly become a powerful marketing tool, and that's before you even spend money on advertising. A well planned organic (unpaid) Facebook account can create a huge amount of exposure for your business.
What about when you do spend money on an ad?
What makes Facebook one of the single most powerful marketing tools online today, is the fact that your ads can be delivered to your exact audience through Facebook's targeting. What makes it effective for the small business owner is the fact that you can boost an ad or post for as little as about R40 an ad.
You don't have to spend hundreds of thousands to get results.
Setting up your Facebook Business Page
Please, please, PLEASE don't try to create a personal account for your business. It has to be a business page. This is a super easy thing to set up.
From your account, click on the down arrow on the top right and select "Create Page"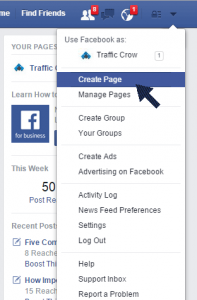 Then select the category that best suits your business.
The options you will be given are: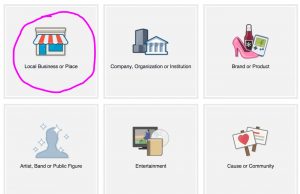 Local Business or Place
Company, Organization, or Institution
Brand or Product
Artist, Band, or Public Figure
Entertainment
Cause or Community
You will be taken to page where you'll be asked to fill in details about your business. These are up to you. Just remember that you want to name your business carefully because the name you choose will be reflected in your business tag (the thing people use to tag you in posts).
If you are a local branch of a bigger company, or maybe someone else has a business with the same name as yours, you might want to consider personalising your tag with a location (for example Webafrica_SA) or other defining identifier (Katies_CupCakes).
You can also include your physical location (if you have a brick and motor store), your phone number, office E-mail, business hours and even include a call now or message button that allows the audience to contact you. Don't worry. It's all laid out clearly and easily. Just read through the options and choose the ones that best suit you and your business. You can always change these details later!
Branding your Page
Now for the fun stuff!
Once you have all the nitty gritty details added and your page exists, it's time to make it shine! Add your Logo as a profile picture and find an appropriate header image.
Canva.com is a great tool for creating headers, social media image posts and so much more.

Write an "About" section that tells the customer what makes you exceptional. This is where you tell your customers all about your products and services. Show off a bit. Forget about keyword stuffing (that doesn't work on Social Media) and focus on letting your brand's personality shine through.
Start Sharing
Once you have your page set up the real work begins. Now you need to USE it!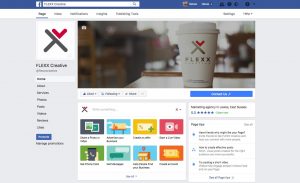 You will see all kinds of options at the top of your page wall. Here you can choose to advertise, create events, or just share status updates and images. You can also use this space to schedule posts in advance. Use the "schedule post" tool! It allows you to sit down once a week (or once a month) and schedule your posts in advance.
You want to make sure you post regularly!
Be it once a week or once a day, you need to set up a schedule for yourself and stick to it.
You can also choose to make use of one of the many post scheduling platforms such as Buffer. Many of these tools offer a freemium version for small businesses.
The Golden Rules of Business Posts:
Keep it positive
Stay away from radical views
The customer is always right, even when they're wrong
Keep your posts on topic – you have a personal page for your personal opinions
Share your promotions, competitions and news!
Always respond to your audience's comments
Engage the audience in conversation
Keep Track of your Game (stats and analytics)
Facebook offers you great reporting tools. Go to your page and find the tab that says "Insights". You can use these stats to keep an eye on how well you're doing with your Facebook marketing by monitoring the audience's response rate, new visitors, new page likes, reach, etc. It's a good idea to put together a simple monthly report to help you keep track. For those who love excel documents, you can also download your statistics in the form of an excel spread sheet.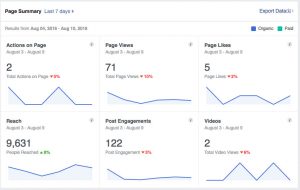 Your insights can also help you pinpoint your audience demographics (who they are and what they like) and help you to craft your posts accordingly.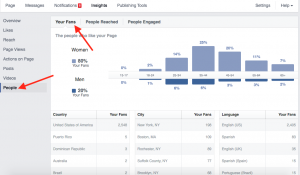 Paid Ads
One of the great things about Facebook is that you can boost your posts and create ads on a very limited budget. Facebook advertising allows you to target your audience, ensuring the money you spend on it gets your message to exactly the right target market. One method is to create a normal image post and then boost that post.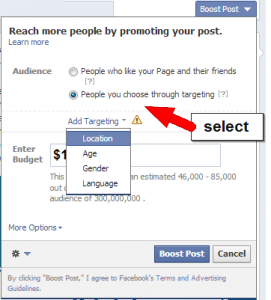 You can also go directly to the "advertise your business" tab and create an ad that links back to your website, product pages or simply brings customers back to your Facebook page.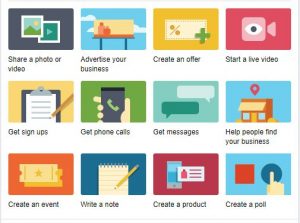 Events
Hosting an event? Facebook lets you create events which allow you to spread the word to your audience, get them to RSVP and share with others. As with other Facebook posts, you can boost your event to reach more people's news feeds. You can also target your audience by selecting their age range, geographic location and interests.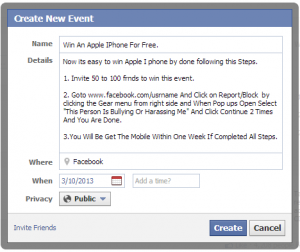 Closing Thoughts
Facebook can be a powerful tool for marketing your business, but you don't have to be afraid of it. Have fun with it. You will quickly learn what works and what doesn't for your business specifically. Just keep the golden rules in mind and all shall be well.