Is Fibre cheaper than ADSL?
You probably already know that Fibre is fast, reliable and (quite possibly) available in your street. Here's what you didn't know… Fibre is cheaper than ADSL! 
Can YOU get Fibre Internet? Is Fibre cheaper than ADSL for you? Search your address in our Fibre map to find out.
Is Fibre Cheaper than ADSL?
YES!
We took a look at our biggest three competitors' uncapped ADSL packages, added them together, divided the sum by three – and found the average cost of an ADSL uncapped package and 10Mbps ADSL line.
Then we added the compulsory copper voice line which is required to run any ADSL line.
The result? *An average cost of around R900/month for ADSL.
(Note: this amount does not include your ADSL router, which you need to buy yourself)
Now, our Fibre prices do vary per provider, but every single one of our 10Mbps Fibre packages costs less than the equivalent average* 10Mbps ADSL package (with voice line) and in most cases, our 10Mbps Fibre packages are even cheaper than the average* 4Mbps ADSL package (with voice line).  There are only two 10Mbps Fibre packages which cost more than your average* 4Mbps ADSL package (with voice line) – but the increase in both instances is around R50 per month, and your speed increases by 150%! On all the other packages you can expect to save up to R300 per month for a superior service! 
How is this possible you ask? Well, the thing is, once you have a Webafrica Fibre package, you'll never need a stand-alone landline again (which you do need to qualify for ADSL). That's around R201 per month that you were paying for a landline which (let's face it) you probably used once a month to call your grandma.
Here's why you don't need a landline for Fibre:
Fibre runs on Fibre optic cables, and you don't need a copper landline at all
This is great news because Fibre cables don't get stolen, as they have no street value (unlike copper cables) and they don't rust and degrade like copper cables do – which means no deteriorating line quality on your calls and connections.
Webafrica gives you free access to our VoIP phone call service
When you sign up for any Webafrica Fibre product you will automatically get a free VoIP account with us on our Webafrica Voice service. We give you 30  minutes of talk time per month to ANY South African network. If you need more talk time than that, simply sign up for a bigger Webafrica Voice package.
Our voice call rates are extremely economical. Even international calls will cost you only a few cents per minute.
You can keep your old landline number
If you have an existing landline number you can simply transfer it to your Webafrica Voice service. It's easy and we'll help you do it.
So, not only are you saving on a voice line you don't really need, but you'll also pay a lot less per minute on your phone calls. All of our call rates can be found on our VoIP page.
See a full comparison of our uncapped Fibre packages vs the equivalent ADSL packages on our Fibre page.
Is Fibre cheaper than ADSL? Take a look: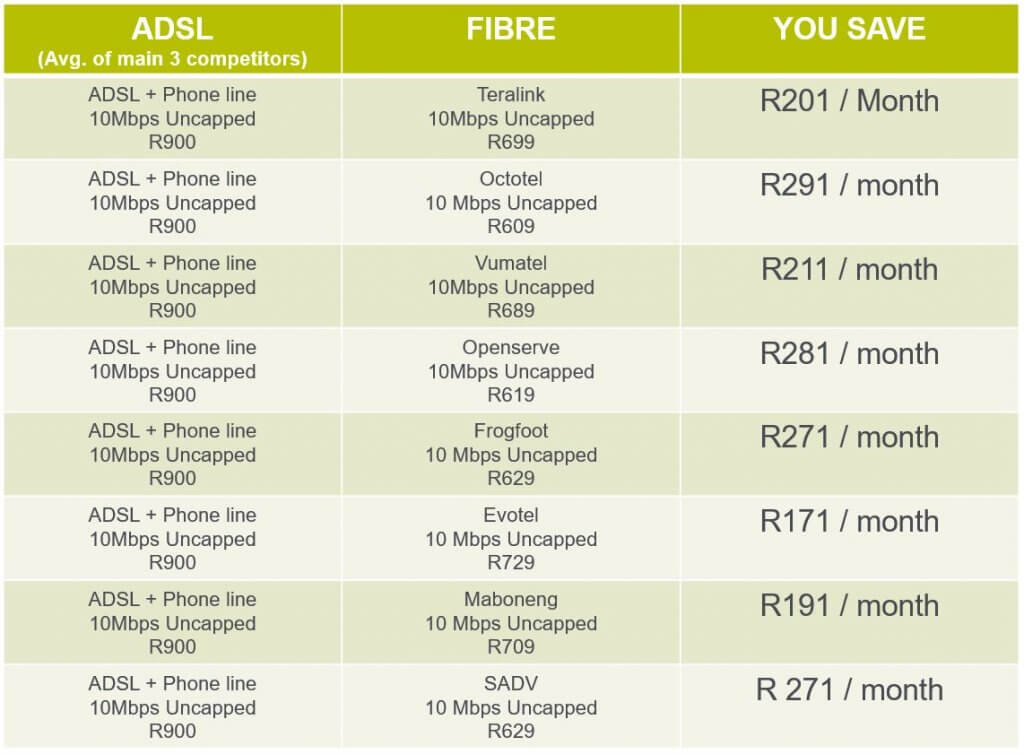 Remember: All of our Fibre packages come with a Free-to-use, fully insured, premium Fibre router. This is great news because you don't need to buy a router, and because it remains the property of Webafrica, we insure it. So if anything does go wrong with your router all you have to do is let us know and we'll replace it – chop, chop.
Let's not forget that Fibre is so, so, so much better than ADSL for so, so, so many reasons! It's faster, it's more reliable, it's superior in every way.
Wouldn't you want to pay less for a superior service?
Order your Webafrica Fibre today and we will throw in free Set Up (deals are dependant on the underlying infrastructure provider in your area), Free VoIP calls every month, and a Free-to-Use router.
Shhhhhweet, right? We think so.
*Average based on the cost from our largest three competitors, including voice line rental, ADSL line rental, and data package.
Please note: All Webafrica deals and packages are subject to change without notification. These include our terms and conditions as it relates to costs and deal/package structures for all of our service providers.