You have probably heard by now that Fibre is so much better than ADSL.
It's faster, it's more reliable, you won't spend time waiting for your movies to buffer and you can easily connect an entire family at once without a war breaking out over who's slowing down the Wifi.
And yet there are people living in Fibre live areas who are still connecting via ADSL. Why?
We looked into it, and it seems that the number one reason why people don't make the switch is due to the misconception that Fibre internet is going to cost them significantly more.
In actual fact, switching to Fibre could save you money!
Depending on which infrastructure provider is servicing your area, you could actually be saving money every month by switching from ADSL to Fibre! What's that? A better product at a lower price? We'll show you.
We put together a price comparison of our most popular ADSL packages and vetted them against the same line speeds and data bundles from our most popular Fibre infrastructure providers. The results speak for themselves.
Take a look: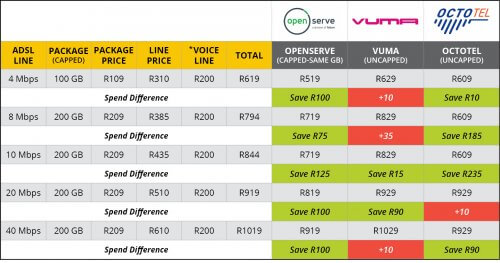 *When you get Fibre you can drop your Telkom voice line and move all your calls over to VoIP.
As you can see, moving to Fibre isn't as expensive as you may have imagined, and in some instances may even cost you less.
To make the move even easier, Webafrica is currently running a sign-up deal* which covers your installation and connection fees and provides you with a premium Fibre router. So not only is Fibre economical but making the switch currently costs you nothing!
With a limited time offer like this one, can you really afford not to switch to Fibre right now? Pop over to our Fibre page now and enter your street address to find out if you're Fibre Live.
*Please note: Our Sign-Up "Fibre Freebies" deal is approved month on month, and we reserve the right to remove it at any time. All orders placed during our Fibre Freebies promotions will be honoured. The value of these freebies varies up to R3750 and is dependent on which infrastructure provider is in your area. Your router is fully insured and free-to-use for as long as your service is active. If you choose to cancel your Webafrica service within 12 months of activation you will be liable for your installation and connection fees.