We're excited to announce that Webafrica has joined forces with SA Digital Villages (SADV).
A new partnership with an additional Fibre infrastructure provider means that we are able to offer Fibre to even more areas.
Who Is SADV?
"SA Digital Villages is a full Telecommunications Operator as well as an Internet Service Provider specialising in the installation, operation and maintenance of last mile Fibre Optic networks."
In a recent acquisition, which saw DFA acquiring a significant minority stake, SADV aims to reposition itself as a wholesale open access FTTH service provider in the South African market. From deployment to the management and operation of the services to the customer, SADV plans to deliver services on their leading edge IPV6 network, and a customer experience never before seen in South Africa.
"Our services currently include a comprehensive a range of Business and Residential services to a wide range of customers including some of SA's major operators, leading businesses as well as a number of premium residential estates."
Visit their website to find out more about SADV.
What Does It Cost?
Webafrica offers competitive pricing options on the SADV network, with packages starting from as little as R599 per month. With a once-off connection fee of R999, SADV aims to implement Fibre solutions to residential estates and business parks throughout South Africa.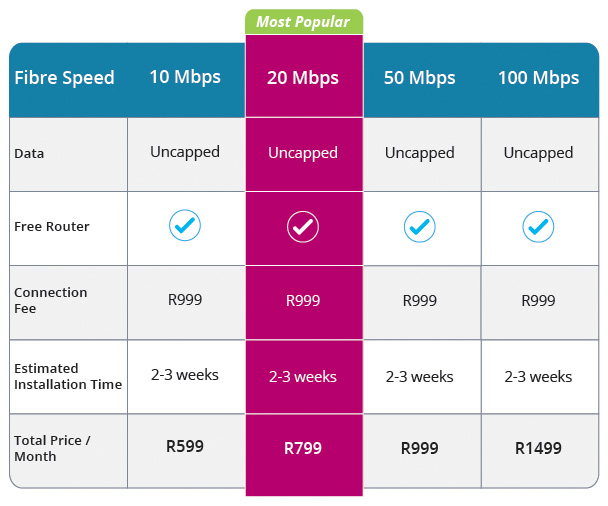 Do They Cover My Neighbourhood?
SADV covers areas in both Johannesburg and Cape Town. Visit our site to view the covered areas.
Can I Get Fibre?
Not sure yet if you can get Fibre? Check our Fibre map now to see whether Fibre is in your area.
Please note that we also partner with other infrastructure providers, so even if SADV does not cover your area, we might be able to assist, and if we don't cover your area yet, you can leave your details on our Fibre map, and we'll let you know once one of our providers are ready to roll out in your area.
Want To Sign Up?
Ready to go Fasterfast? Of course, you are! To sign up call us on 086 000 9555 or email fibreorders@webafrica.co.za and we will call you back.