We are pleased to announce that we are partnering with Devil's Peak Vredehoek Neighbourhood Watch (DPV Watch) to help keep your neighbourhood safe.
We will be providing:
Free Fibre internet to all the security cameras in the DPV area
Free Fibre to the DPV Watch office
This means that the cameras in this area will no longer be subject to the occasional data-send lapses that plague the overcrowded Wi-Fi networks, which means increased and stable security footage, which will lead to more up time and better quality coverage.
"We are very excited to be partnering with Webafrica. Our LPR camera system will soon be hooked up to Fibre, and Webafrica will handle all the connectivity and data for DPV Watch. We look forward to working with their dynamic team." – Vito Paparella, Chairman DPV Watch
2 or 3 Months' Free Fibre For Residents
In addition to helping to keep your area safe, we are also offering all residents the opportunity to experience the wonders of Fibre with our amazing specials. So we are giving all those who live in the Devil's Peak Vredehoek area either 2 months or up to 3 months of Free Fibre internet, depending on whether you are in a Vumatel or Octotel area, along with:
Easy upgrades if you need more data or speed
Our contract-free, month-to-month packages
This is what we are offering if you sign up with us:
Vumatel: 2 months of free Fibre for all new sign ups
UPDATE: We also now offer Free Installation worth R1710 on all Vumatel packages*
Octotel: up to 3 months of free Fibre for all new sign ups (2 calendar months + part of installation month)
Which Area Do I Fall In?
We've included a map, to make it easy for you to see whether you are in a Vumatel or Octotel area: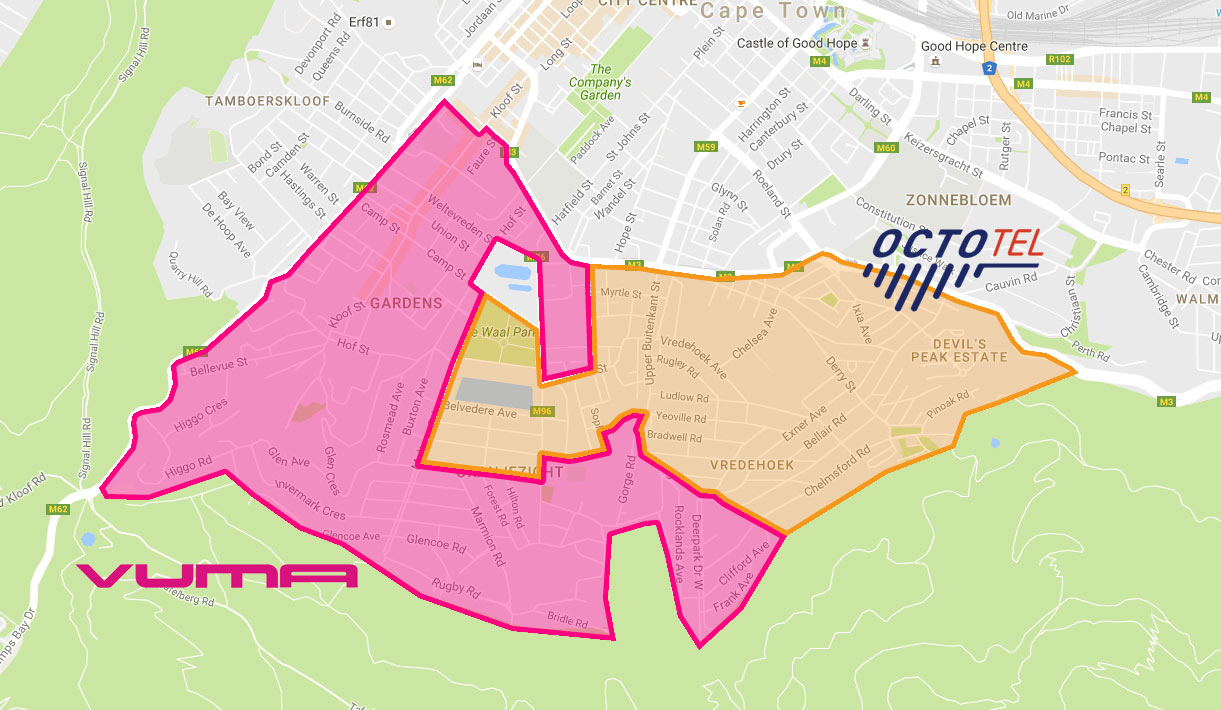 When Is My Area Going Live? 
For our Octotel customers: Our first customers in Gardens are going live in September with Vredehoek going live in October.
For our Vumatel customers: Go-live dates are currently to be seen, and we will keep you updated!
Our Fibre Packages
We have a variety of capped and uncapped packages available. You can view all our packages here.
Make Use Of This Limited Offer
Sign up now to make sure you get your initial months free (either 2 months or up to 3 months depending on the area). Call us on 086 000 9555 or email fibreorders@webafrica.com and we will call you back.
Ready for Superfast, Superfly Fibre internet? Of course you are! Sign up today, and soon your days of slow and unreliable internet will be over!
*Please note that this promotion has expired.