Power cuts can be a frustrating experience – the Netogy UPS 100 can help you change that!
Ever forget about load shedding or have an unplanned power outage cut your power while you were doing something important on your computer? Or need the internet for an important project and POOF! – WiFi's down and you don't have data. You are cut off from the world.
"Loadshedding is sadly something we must live with, and if you haven't accepted that, it is probably time to," Jeremy Wilkinson, Marketing Manager for Webafrica says.
Most of us have been there. It's hard to get through a power outage if you have zero entertainment, you can't do work and your phone dies. Don't worry, we have the solution!
We have this nifty device that will keep your WiFi router and/or Fibre box (ONT) online for up to 4 hours* when there's a power outage. The Netogy Compact UPS 100 Plus is a small, easy-to-carry UPS (Uninterrupted Power Supply).
What is a UPS?
An Uninterrupted Power Supply (UPS) is basically a battery backup device that keeps your devices charged and powered during a power outage. If you're familiar with a powerbank for your mobile phone – think of this as a larger version that can charge bigger items or just keep a constant power supply flowing to them. The size of the UPS determines what you can plug into it as well as how long it will be able to stay on. Needless to say, the more items you have plugged in, the more power it draws and the quicker your battery power will run out. A UPS can also provide protection against power surges and changes in electrical flow which could be potentially harmful to devices.
What our testers have to say:
Like with all our products, we like to put it to the test first before offering it to our customers. Here's what three of our testers had to say:
"What a fantastic little device. Easy to set up, keeps my router and ONT powered on through load shedding and does it using less than 25% battery life of the device." Lyle Parenzee (Provisioning Manager).
"I had a big bulky UPS that lasted just two hours (maybe 2.5 depending on what I plugged in) …did I mention it was bulky? Luckily, I got to test one of our new compact Netogy UPS and this is more like a power bank on a sugar high. I've used it with my fibre connection (ONT and router) and with my LTE router. The fibre stayed up for five hours, while my lower-powered LTE router was on for seven (I don't live on the edge, so I never ran it down completely). With the USP ports and a quick charge time, I think I will be ok…even if it hits stage 8! Total blackout? I think we would have a few more things to worry about than catching up on Netflix or work! The only downside is it doesn't power my coffee machine…
Just a side note – don't expect this to keep your TV and lights on, it isn't that! BUT it will ensure you don't miss out on those annoying Teams messages and stay connected during work." Jeremy Wilkinson (Marketing Manager)
"The UPS is really amazing considering its small size. Powers my ONT and router for a good 4 hours without switching off. The other great thing is you can use it as a powerbank!" Justin Wilson (Brand Ambassador).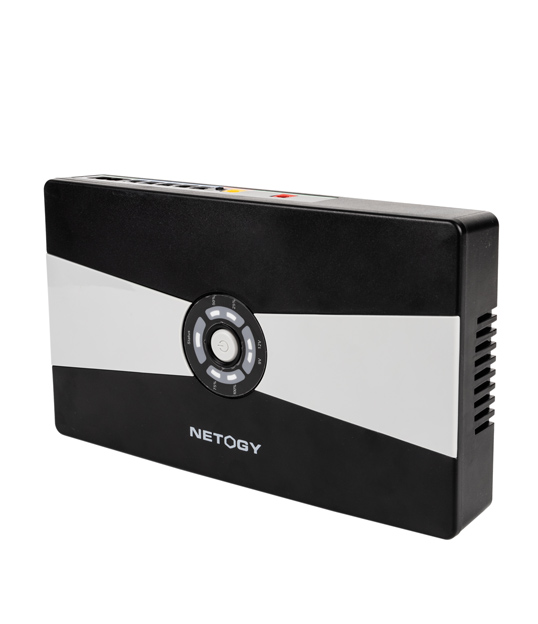 Here are some of the techie details:
Powers Fibre (ONT) box and router for up for 4 hours*
Powers LTE routers for up to 6 hours
Compatible with most LTE/Fibre routers and Fibre (ONT) boxes
2x USB ports to charge any device which allows charging via USB (most mobile phones)
5x 12V/5A ports
Safeguards against power surges, dips and failures
Intelligent circuit design with over-charging and short circuit protection
Light in weight and easy to move around
So, if you'd like to stay online, even when you can't make coffee or warm up your food – try out the Netology UPS100 Plus for only R999. Visit our website to order.
*As experienced during internal testing – as with all batteries, degradation occurs over time.