If you're thinking about installing Smart Home apps then we have another great reason to do so – a Smart home can deter break-ins and would-be burglaries.
When you go away for any length of time you don't want to spend your trip worrying about whether your home is safe. With a Smart home security system, you can rest assured that everything is okay on the home front. Here's how:
Randomly Cycle Lights
We all know the classic security tip "Leave a light on so that it looks like someone's home", but if you have just one light burning all night long it becomes pretty obvious that no-one's home.
If you connect your lights to a Smart home system you can set them to cycle at random. This makes it look more like there are real people coming and going through the house.
Turn on TV or Music on a Schedule
Another thing you can set with your Smart home is the TV. You can schedule your "box" to switch on at a certain time (or to stream music).  You can even use the Harmony Hub to help you choose which shows and channels you want to play while you're away.
Video Doorbell
This little gadget is one of the latest Smart home innovations and we just love it. The Smart doorbell is so much more than just a doorbell with a security camera attached. It combines your doorbell with a video camera and two-way audio which allow you to talk to whoever is at your door, via any connected device. That means you can talk to the person on your doorstep even if you are sitting on a beach on the other side of the world.
If it's someone who needs to be there (maybe the neighbour who's feeding the cat) you can use your Smart system to deactivate your alarm system and let them in.
Motion Sensor Flood Lights
Having a motion-activated flood light in your back yard may not be a new idea, but the Smart version comes equipped with a camera and speakers, allowing you to see whoever is there and talk to them, too, or to hit a panic button and sound the alarm.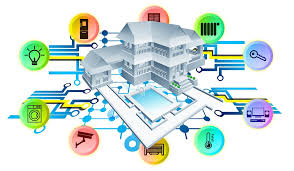 The Most Popular Integrated Smart Home Systems available in South Africa Today:
Ready to get your Smart Home up and running? We thought you might be. Take a look at our list below.
Nuru
Nuru are home automation specialists who will install all your smart home automation solutions, home theatres, the works.
Smart Home Africa
Smart Home Africa are suppliers of smart tech. They supply everything you need to get up and running and can put you in touch with your local installers, too.
Touch Technologies
Touch Technologies  are full package installers who will take care of every aspect of your Smart Home set up.
The Best Tech
Keen to get it all set up yourself? Here is where you can find all of the best Smart tech for 2018 (so far).