Do you fancy yourself as a bit of a social influencer?
If you have sway with your friends and family and you love your Fasterfast internet from Webafrica, then you could be using that influence to earn cash back from us.
At Webafrica we appreciate our loyal customers, and we like to show our appreciation. That's why we run so many competitions on our Social Media platforms – because it gives us the chance to give something back.
But just like there are those ISPs that go the extra mile for their customers, there are also customers who go the extra mile for us. We like to reward those customers.
That is why we have the Webafrica affiliate program.
What is a Webafrica Affiliate?
If you are a Webafrica customer and you get other customers to sign up with us for their internet services, you will earn 5% commission on the value of the referred service.
You can choose if you want to use your commission towards paying your own Webafrica account, or if you want to cash out after you have settled your account.
How to become a Webafrica Affiliate
It's really pretty easy.
Just log into your Customer Zone (you do need to be an active Webafrica customer) and click on "Earn Cash" at the bottom of the Right side menu.
Here you will find the following screen:

Once you have activated your affiliate account you will be taken to this screen with your very own custom link: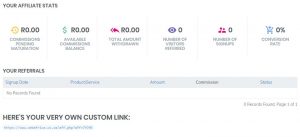 Copy this link and share it with your friends and family.
Every person who signs up with us, using your unique link, will be credited to your affiliate profile, and you will earn 5% commission on the value of their paid referred service.
What you need to know:
You will start to earn commision on the account after the referred customer has been with us for 3 months. This allows us time to cover admin and sign up fees.
If your referred customer cancels their account or goes into arrears, you will not receive a commission on their account.
You may choose to use your commission towards your Webafrica account.
If you have an available commission balance of R150 or more, after your own services are paid, you can request a withdrawal.
How to Share your Custom Link:
Post it on your Social Media pages
Email it to your friends, family, and co-workers
Send it to your Whatsapp and SMS connections
Just remember to tell them what it's all about, and please be respectful of Whatsapp group rules.
Simple, right?!
Just another way Webafrica is saying "Thank you" to you, our loyal customers.
Visit our Knowledge Base for Terms and Conditions on Affiliate Commission.