So When Should I Post? 
This is a question faced by many business owners and social media managers, and as with most things in life there is no magic answer. There are a lot of theories on what the best time is to post on social media to reach the largest audience. To really get the most out of your posts you need to know on which platforms your customers are active. You also need to know where your demographic lives.
Once you've figured this out, you can look at the habits of the average person on a certain platform, and then adapt your posting timeline to suit their interaction.
CoSchedule took the information they gathered from 16 studies to explain when the best times are (according to these studies) to post on various social media platforms:
Twitter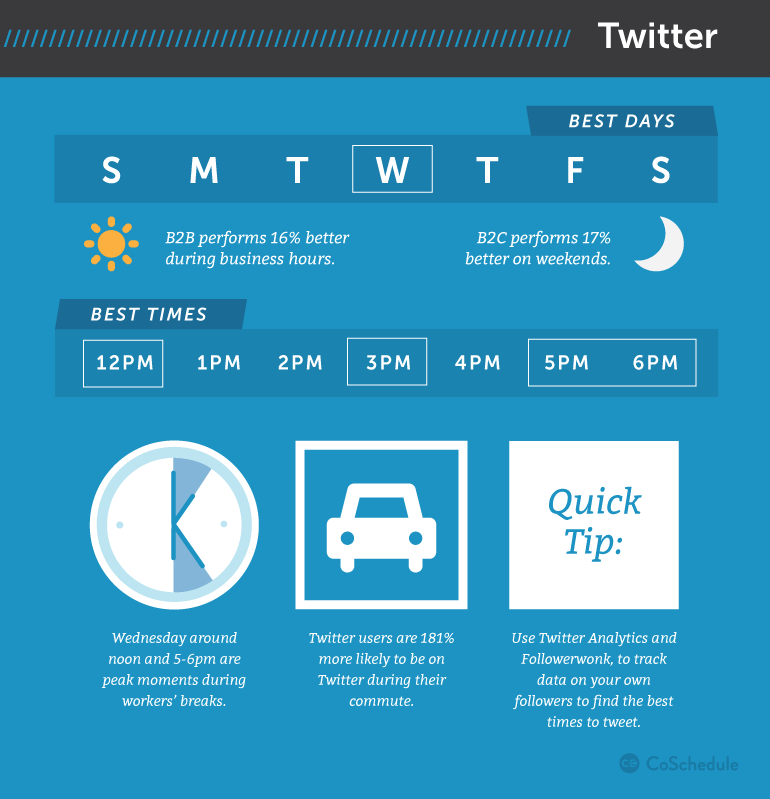 Image sourced from CoSchedule
People often look at Twitter when they have breaks or are commuting, but people are active on Twitter every day of the week at different times, and how you should post depends a lot on your specific audience. Use Twitter Analytics to help understand your followers better.
Facebook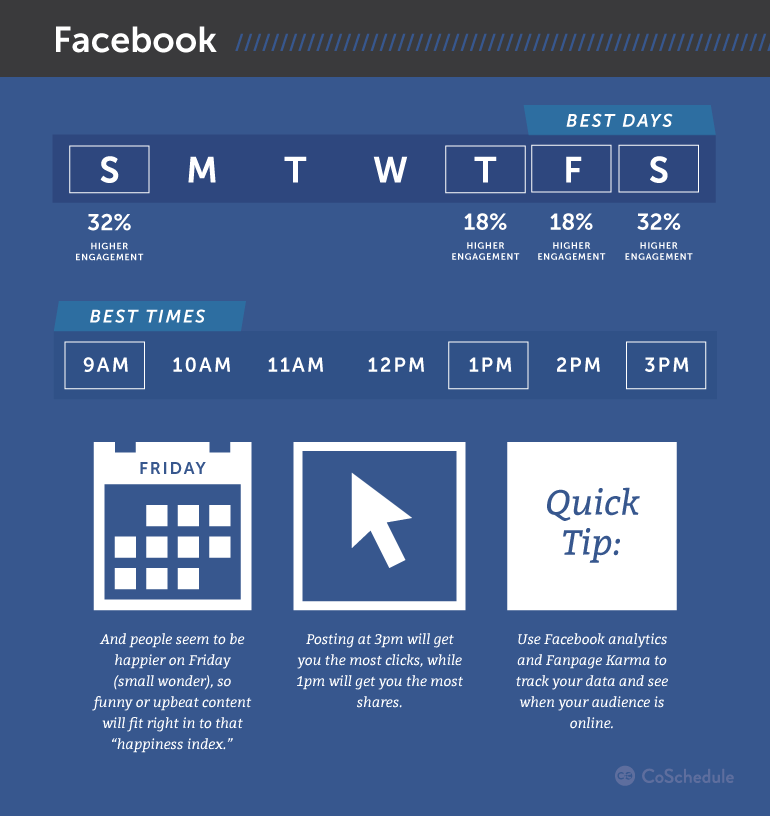 Image sourced from CoSchedule
Facebook users use both their desktops and mobile devices to browse what's new on the platform. They often look at their feed before going to sleep and when they just wake it. It pays to figure out when your audience is most active, but it appears weekends offer higher engagement rates overall, so look at scheduling posts for the weekend, when your customers have leisure time.
LinkedIn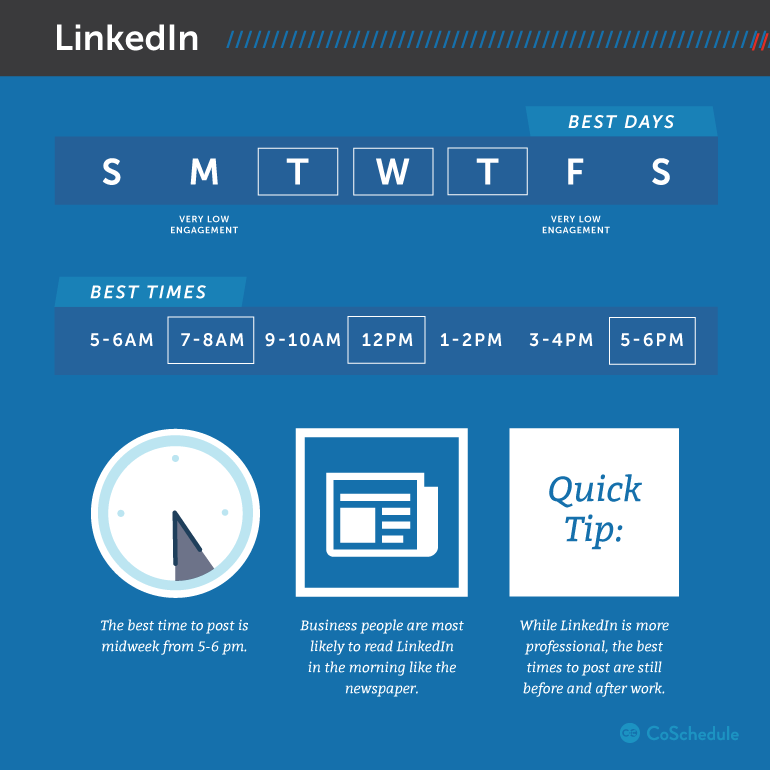 Image sourced from CoSchedule
While professionals look at LinkedIn during business hours, posting around breakfast, lunch and early dinner time will still get the most engagement, because that is when customers have time to spend on social media, even when at work.
Google+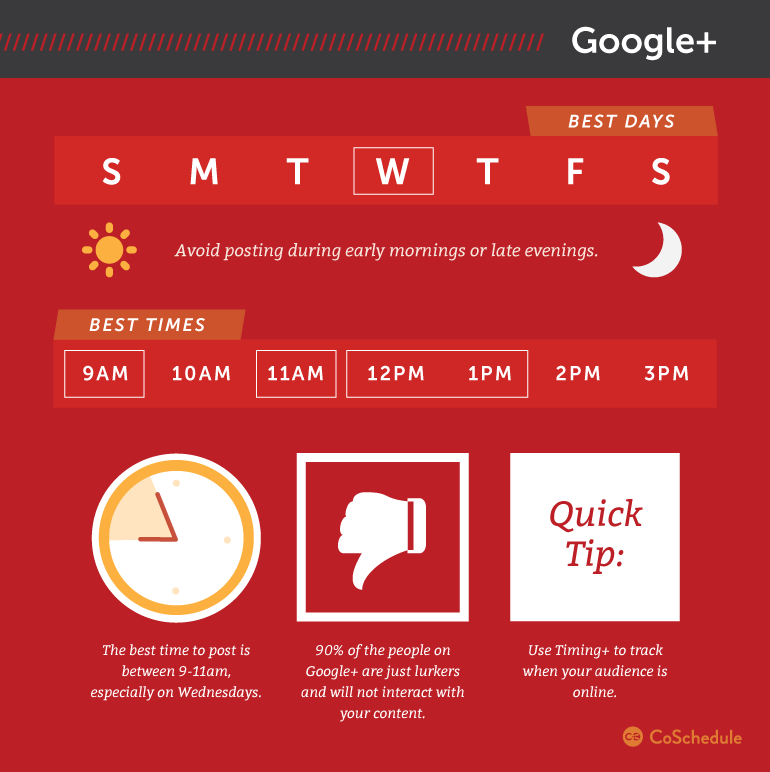 Image sourced from CoSchedule
Only about 10% of people on Google+ really interact with content. That is not to say they don't see your content though. It does seem like people are busy on this platform earlier in the day and remember, being active on Google+ is good for SEO, so even if in your case it offers less engagement, it is still a platform worth investing in.
Instagram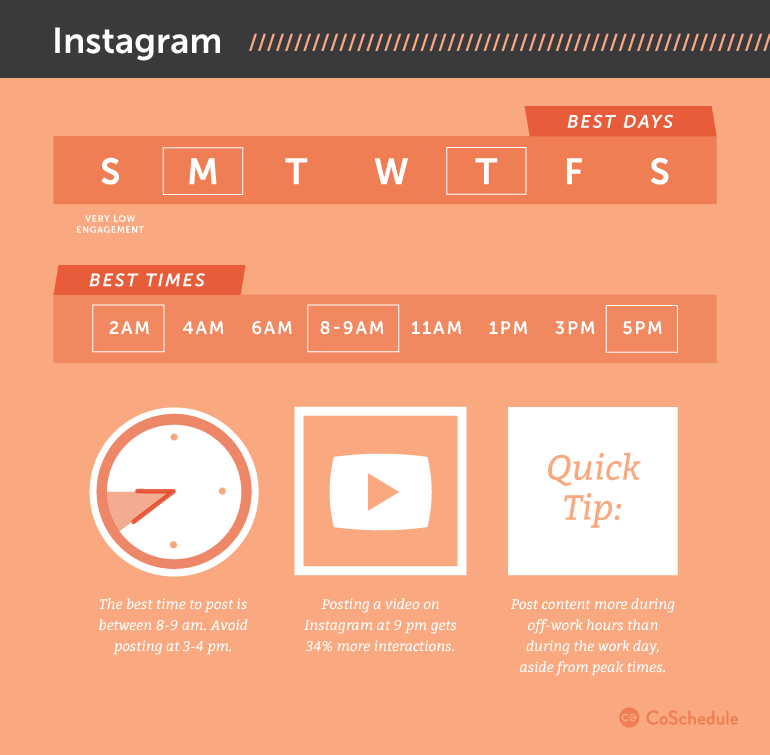 Image sourced from CoSchedule
There are always people active on Instagram, but check out when your specific audience is active. It really depends on your business and where your followers are. You can use Iconosquare to learn a lot about the habits of your audience and the success of your Instagram posts. Instagram is rapidly expanding in South Africa, so it is a platform worth checking out.
Pinterest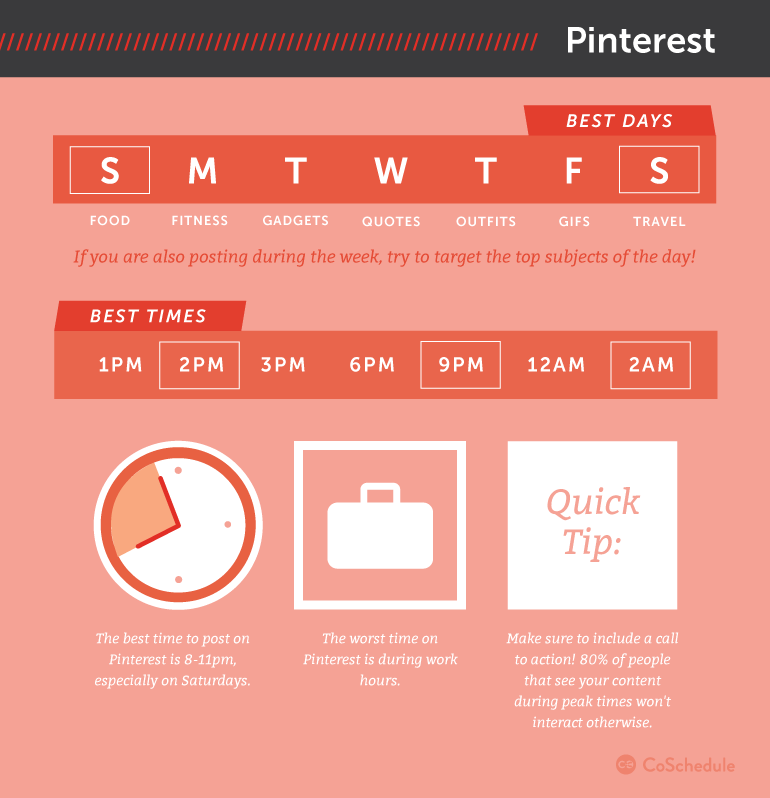 Image sourced from CoSchedule
Since a lot of the content featured on Pinterest has to do with hobbies, people are on Pinterest when they have some free time to spend. They look at the site at the same time they would, for instance, watch television. So, it's a good idea to post in the evenings.
The Wrap Up 
The more networks you are active on, the more likely you are to encourage engagement, but be wise about it. There is no point pouring resources into a platform if none of your customers are there. Always test how your posts perform and use your own notes to tailor you social media activity. Different online tribes interact in different ways, so try the guidelines above, but if they don't work, be ready to adapt!
Top Tip: Remember that social media might bring you followers in different locations from your business, so unless you are operating on a global scale, it makes sense to post according to times that target the right demographic, rather than the time you get the most interaction. Instagram is a good example of this. The majority of Instagram users are located in the USA and Russia, but you likely want to appeal to a South Africa audience if your business is based here. So make sure you are posting when South Africans are most likely to be using their Insta accounts.=
Check out CoSchedule's full infographic and study here.
Need some help with managing your social media? Check out our Facebook Boost online marketing package.
Summary
Article Name
Infographic: The Best Times To Post On Social Media
Description
A look at the best times to post on various social media platforms, with the help of CoSchedule's infographic.
Author