Recently, Netflix introduced a new webpage where you can view the Top 10 shows globally as well as per country. The function is a helpful resource if you want to see which shows are popular not only in your country but in other countries as well, in one easily accessible space.
We've given you the top movie and series this week and the list of South African favourites so you know what to binge on this weekend. Here is what was trending:
This week's global movie winner:

If you're looking for something to watch tonight, Red Notice is your go-to with it trending for the past two weeks globally. It's an action-comedy (there will definitely be a few laughs with Dwayne "The Rock" Johnson and Ryan Reynolds) about an FBI agent hunting down a sneaky art thief (the talented Gal Gadot). It's rumoured to be one of Netflix's most expensive films and looking at the buzz it's creating, it was well worth it.
This week's global series winner:
In this spin-off – or rather continuation – of the original Narcos series, the history and roots behind the drug world in Mexico is explored. Set in the 1980s, it follows DEA agent Kiki Camarena who moves with his family to Guadalajara to take on a new post. It also follows the Guadalajara Cartel and Felix Gallardo who takes the reign in the Cartel. It's action-packed and based on real events so you'll get a history lesson without even noticing it! Season 1 was released in 2018 and has three seasons in total that you can binge on. The reason for it only trending now is because it was only recently added to Netflix.
Week of 1-7 November 2021: Top 10 (South Africa)
Movies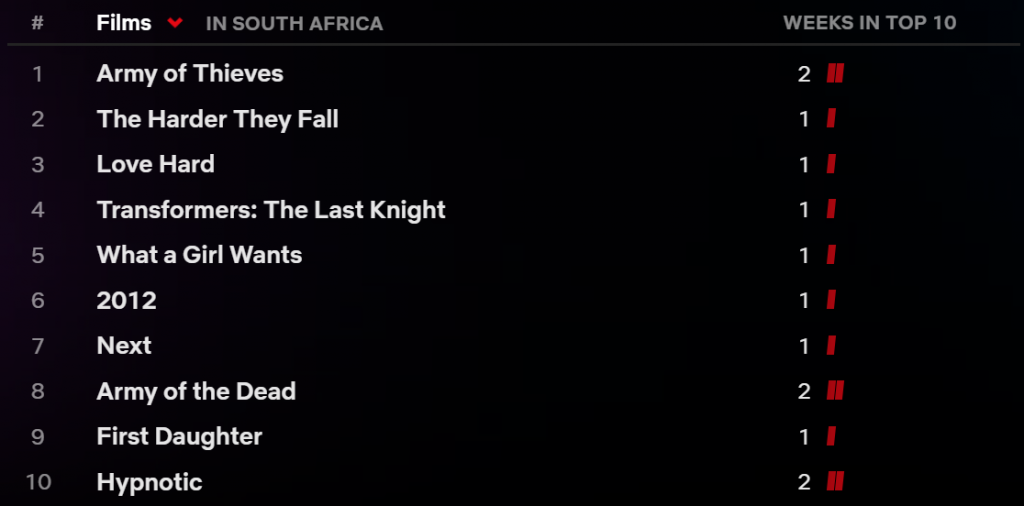 Series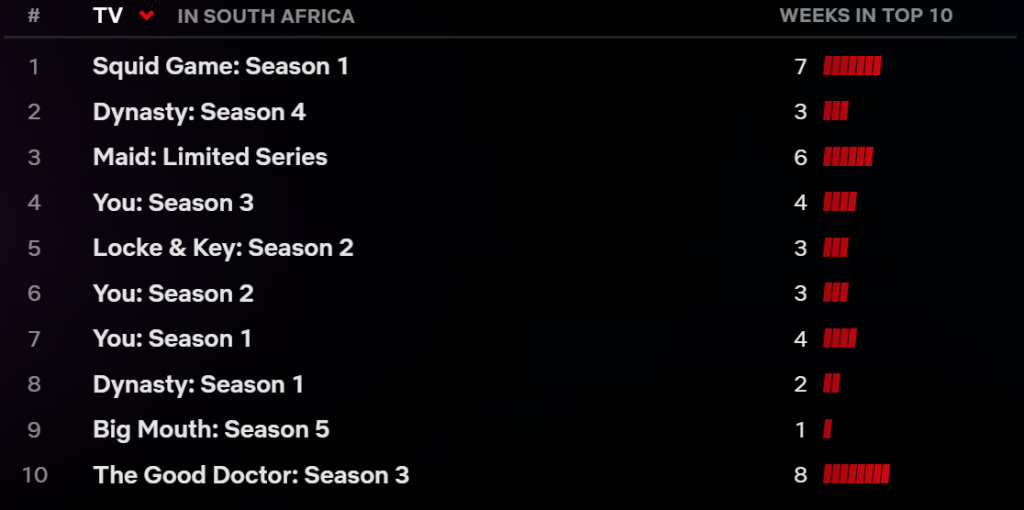 Week of 8-14 November 2021: Top 10 (South Africa)
Movies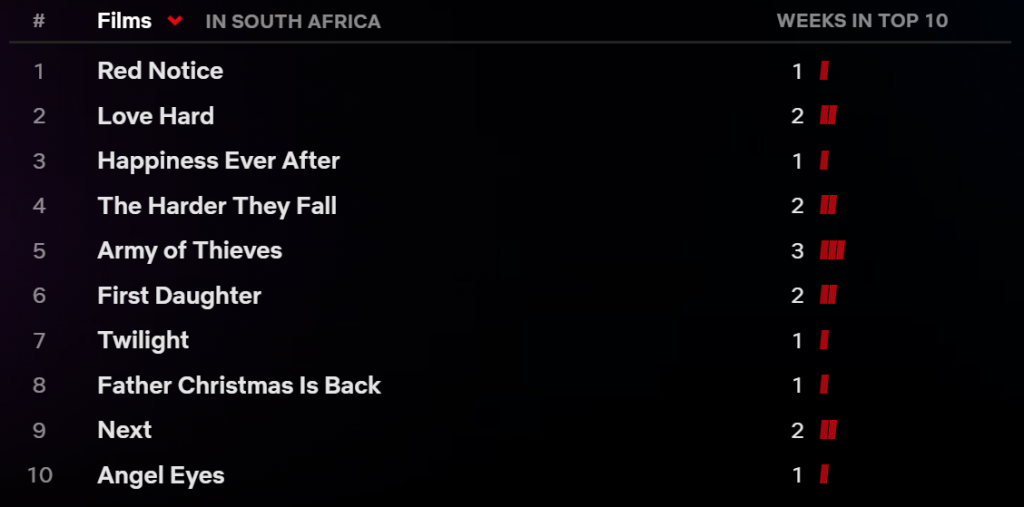 Series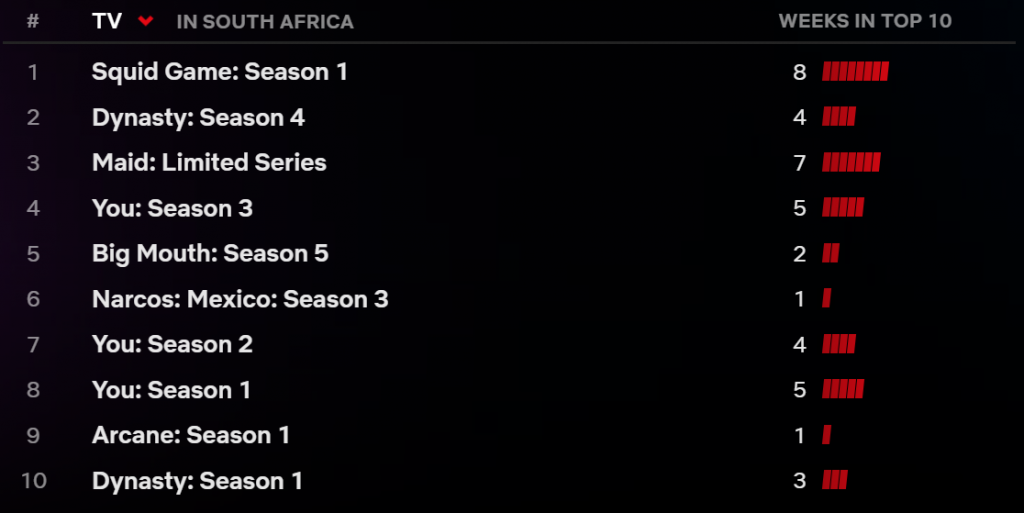 If you'd like to keep an eye on the list and find out what's trending each week, you can visit the Netflix Top 10 site.
What to look forward to this month:
19 November
Tiger King (Season 2)
Hellbound (Season 1)
22 November
Outlaws (movie)
26 November
Dig Deeper: The Disappearance of Birgit Meier (documentary)
24 November
Selling Sunset (Season 4)
True Story (Limited series)
23 November
Reasonable Doubt: A tale of two kidnappings (Limited Series)
Jonas Brothers Family Roast (comedy special)
26 November
School of Chocolate (Season 1)
A Castle for Christmas (movie)
Bruised (movie)
A Boy Called Christmas (movie)
Azzuri: Road to Wembley (documentary)
Fine Wine (movie)
27 November
F is for Family (Season 5)
Super Crooks (Season 1)
Downton Abbey: The Motion Picture (movie)
28 November
Elves (Season 1)
29 November
14 Peaks: Nothing is Impossible (documentary)
30 November
Lead Me Home (documentary)
Summit of the Gods (animated movie)
1 December
Archer (Season 12)
The Power of the Dog (movie)
Papillon (movie)
Sparkle (movie)
The Cleanse (movie)
Lost in Space (Season 3)

3 December
Money Heist (Part 5)