The Webafrica brand (stands up with hand on chest because pride has found a new meaning)* is fun, quirky and sometimes a little cheeky. We have never been defined by others and source inspiration from real, authentic and organic initiatives that truly strive to help others and give back in a meaningful way. We are known for (and have grown a reputation for) challenging the status quo in a way we all can appreciate.
Collaboration with others is nothing new for us. We understand the importance in the modern world to become more connected locally, nationally and internationally. We here at Webafrica have always tried our best to keep our hand on the pulse of local entrepreneurship activities – and we came across what felt like the missing piece of our puzzle.
Graffiti / Street art.
The idea seemed irreverent and relevant at the same time. Perfect! Sounds Webafrica-ish.
When we found 336 Arts – a group of innovative artists working around the clock to provide platforms for struggling artist of all types, Webafrica knew we had stumbled upon something worth getting involved in, so we asked them to come in and chat to us.
Their initiative is developing our communities and making them more colorful at the same time.
They blew our socks off, no, blew our minds almost, with one of the most innovative, entertaining and frankly impressive presentations we have experienced. They showed us what they do and what they can offer. Our CEO was so engaged, he did not want the team to leave, his PA quite literally had to pull him out of the meeting room to catch a plane.
336 Arts are committed to:
Promote Local Creative Talent (of all sorts)*   and  Local Startup Businesses through creativity and meaningful collaboration, to empower the minds of the future to dream without limits, and to work smart.
For now, we have had them inspire our team with colourful artwork on our walls inside the Webafrica office.
To get an idea of the presentation we received, take a look at their video below: 
Video compiled by 336 Arts – Dance division of their business
Dancers: Nacho and Juju-man who are creative artists as well ( skills include Grafitti, graphic design and animation design) 
MUST WATCH NOW! Enjoy and PLEEEEZ Like ;)Music by: Affelaye – BeforeDancers: Nacho & Juju-MahnWe are Creation Artists – A Creation Artist Creates anything within the IMAGINATION by tapping into the FLOW while engaging and understanding the Inner-Child. This video was edited and shot by us and we would like to call this a Piece of Motion as an expression of who we are. Please watch in HD for best viewing and dont forget to Like us 🙂 Hope you Enjoy <3 #STEPUPNOMINATION

Posted by Junaid Omar on Friday, 15 August 2014
Take a look at some of the work they have completed in our Webafrica office : (Reception area – Entrance)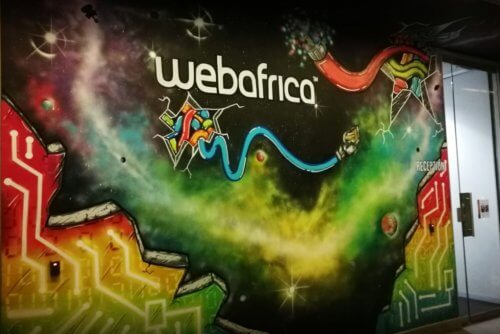 Feel free to have a look at their work – Their handles are:
Juju_mahn336arts (co-founder)
Nacho_arts (co-founder)
suling_sing (collaborator)
They start work on the rest of the office space pretty soon – so,  watch this space! We will get a video together for you all to enjoy and show your support for our local thriving S.A talent. Now it's clear that #WebafricaCares 😉