Smart TVs are becoming more and more popular as we start moving towards streaming platforms instead of traditional broadcast television. If you don't have a Smart TV, don't fear! The Ematic Android TV box is here.
The world is changing rapidly around us and digital technology is evolving as we speak to make life more convenient and of course, provide more ways to stay entertained. These days we get bored faster, and we have started to expect the quality to keep rising beyond our imagination. And it has.
The Smart HD TV brought new aspects to our viewing preferences. You can now access streaming services straight on your TV, get 4K streaming quality and crystal-clear display with UltraHD.
The problem, however, is that in countries such as South Africa they are still pretty expensive. Prices can range between R3 000 and R50 000, depending on the quality and size of the TV.
Don't get disheartened – you don't actually have to pay these high prices to get the same effect. There is an awesome product on the market that turns your standard, old-school television into a Smart Android TV. It's called the Ematic Android TV box.
Why you should want an Ematic Android TV box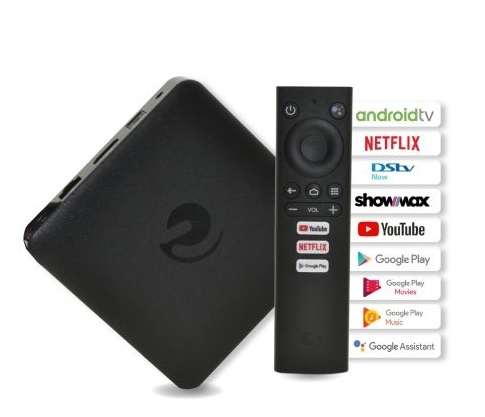 Its small and sleek design takes up very little space.
It's portable so if you go on holiday, take it with! All you need is a TV with an HDMI port.
It's preloaded with Netflix, Showmax and DStv (streaming). You just need to subscribe to one of the platforms, if you haven't already.
You will be able to view your favourite movies and series in UltraHD. For the non-techies, basically super awesome crystal-clear high definition.
It is future proof. It's constantly updated via Google so you will be able to keep using it for years and years to come. Some Smart TVs can become outdated faster and you might need to either upgrade or purchase an Android TV box in future.
It is easy to use and very user-friendly with no complicated set-ups. Just plug in and play!
Best of all: it's significantly cheaper than a new Smart TV coming in at only R1299 once-off.
What else is cool about it
You just need an HDMI port in your current TV.
Side note: the Ematic comes with an HDMI cable, so you won't even need to buy one.
Your remote will have Google Assist installed. So you can search the web just by saying "Ok Google" and asking a question or giving an instruction.
It has Chromecast built-in. You can show off those holiday photos by casting them from your device straight onto your television screen.
You will be able to stream in 4k. Not sure what that means? Click here to read more.
You will have access to Google Play Store so you can download various apps and games.
It's fully Google certified which means you won't have issues with app updates or downloading certified content such as the DStv app that can only download on Google certified devices.
It's also fully Netflix certified. This means, your favourite movies and shows will stream at the highest quality (UltraHD) that your Netflix package allows.
Already have a Smart TV? Don't stop reading just yet… It is important to note that not all Smart TVs are Android TVs. So not all features listed above on the Ematic, will necessarily be available on your Smart TV. If you don't have an Android TV or have an old outdated Smart TV, you can still use the Ematic to upgrade and get more features.
"Just because you have a smart TV in your home, doesn't necessarily mean you're getting the best streaming experience."

Ematic Product Manager at Nology, Grant Robertson (ITWeb, ,12 Nov 2020)
Get the Ematic AGT419 and convert your current TV to a Smart TV – or make your current Smart TV even smarter…
There is a world of entertainment out there and you could get it all at a touch of a button. To order yours now or for more information and the full specs, visit our website. You won't regret it!