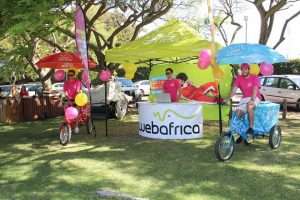 The Webafrica Ice Bikes!
You may have already seen them riding around your area, and you can expect to see a lot more of them (or us) in the next summer months!
The Webafrica Ice, Ice Baby campaign is all about bringing happy goodness to those Fibre live areas. Our bright and colorful ice buckets are atop 2 Webafrica Bikes, being ridden around by cheerful Webafricans who are intent on spreading the summer love.
What's inside them? Well that's the surprise!
Our first weekend we rode around handing out Gatti's Ice Creams in Fibre Live Claremont and Rondebosch.
Our next Ice, Ice Baby day will see us handing out something different.
We have all kinds of fun giveaways planned, so if you see our bikes in the park, or on the street in your area, please do come around, say "Hi", and see what freebies we have for you.
Whatever our surprises of the day are, they will be absolutely free – all you have to do is grab a flyer, smile at our bike riding Webafrican, and help yourself.
But wait, there's more!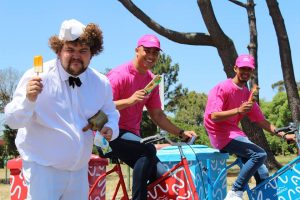 You could win 6 months of FREE Fibre!
Because our bikes will be visiting Fibre Live areas, you know when you see them in your neighborhood that you can get Webafrica Fibre! To celebrate the joy of Fasterfast fibre internet, we are giving away 6 months of FREE Fibre internet to one lucky person every month until the end of summer.
All you have to do is snap a picture of yourself with our Ice, Ice Baby bikes and post in on Instagram with the hashtag #IceIceBaby and @Webafrica. Alternatively you can fill in a form, available from our Webafrica bikers.
FIBRE IS HERE!
Winners will be announced on the last business day of each month. Standard Webafrica T's&C's apply.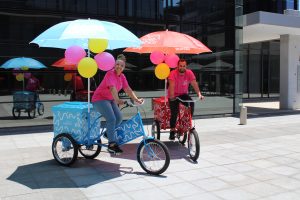 See you soon!
Don't forget to follow us on Social Media to stay in the loop with our competitions and giveaways.