One of the (many) great benefits of having a Webafrica Fibre internet line is that you can say goodbye to Telkom once and for all.
Not only does your internet now exist independently of a Telkom ADSL line, but you can also say goodbye to your old landline and make use of our VoIP (Voice over internet protocol) voice call service instead.
What is Webafrica Voice?
Webafrica Voice is our Voice over Internet Protocol (VoIP) technology which allows you to make phone calls using your internet connection, rather than that of a traditional copper phone line.
We will provide you with a free, unique "087" number, or you can choose to keep your existing landline number.
How does it work?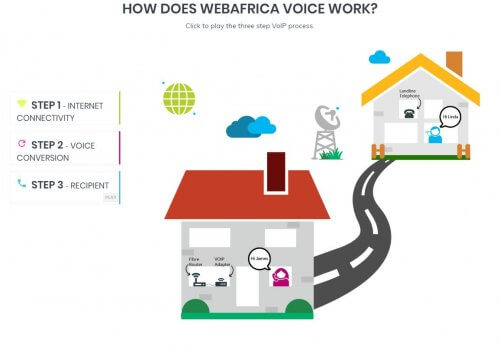 How do you make a call using VoIP?
You can choose to purchase one of our future-proof pre-configured VoIP phones or you can activate the VoIP service on your cell phone by simply downloading a VoIP app such as Zoiper.
How do you port your existing landline number to your Webafrica Voice service?
Easy!
Visit your Customer Zone and Voice Interface via the welcome mailer you receive when you sign up.
Click on the 'My Services' tab.
Select the 'Voice' tab to access your Voice Interface.
Click the 'Transfer Number' button.
Follow the 4 easy steps outlined here (Fill in a form, give us your existing number, upload your latest Telkom account, and pay a once-off transfer fee of R150).
That's it.
Why use VoIP?
• You don't need a copper landline – no more fuzzy lines, copper theft issues or fallen trees interrupting your connection
• No more dealings with Telkom
• Access your landline while roaming
• Switch between your home handset and your cell phone as you please
• Save on local, cell phone, and international calls with ridiculously low call rates. For example:
Webafrica to Webafrica: FREE
South African cell phones: R 0.45 / minute
USA: from R 0.24 / minute
UK: from R 0.36 / minute
Australia: from R 0.71 / minute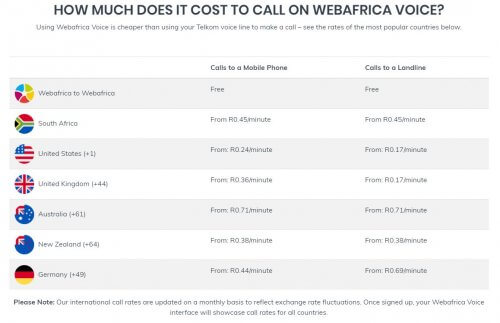 Limited Time Fibre Sign Up Offer:
We are currently giving all of our new Fibre customers 6 months' FREE Webafrica Voice 1 (our starter VoIP package). This includes roughly 170 minutes of talk time to any South African network or R109 worth of talk time to use on any international number. (Offer valid until 18 Feb '19)
Pssst – if you're an existing Webafrica Fibre customer who has never tried VoIP, just pop us a message on Facebook during our Social Media hours and we will hook you up with a 6 month free trial, too 😉 (Offer valid until 28 Feb '19)