We are happy to announce that Webafrica will now be offering our Fixed LTE on the Telkom LTE network.
Why should this excite you? Because it means we will support a wider LTE coverage area than ever before.
Perhaps your neighborhood isn't Fibre live yet, or maybe you're just not ready to commit to a Fibre installation because you're renting – but you still need a fast, reliable internet connection. If this sounds like you then Webafrica's Fixed LTE is probably the right internet option for you.
What you can expect from Webafrica's Fixed LTE on the Telkom Network
Let's get down to the nitty-gritty details about Telkom LTE and what it means for Webafrica customers.
Internet Speeds: While the network has let us know that they are capable of internet speeds up to 90Mbps (given you're using a router that can support these speeds), they have promised us an average speed variation of between 10Mbps and 25Mbps for most users.
We expect to see great things here.
Network Range / Coverage
The Telkom LTE network currently has the widest coverage of any South African LTE network. This is good news because it means we can connect more users in more locations than ever before.
To find out if you're covered simply visit our LTE page and search for your address on our interactive coverage map. The map is updated regularly (as new areas are added) so if your address isn't covered yet you should come back and check again every couple of weeks until it is.
Webafrica's Telkom LTE prices compared
One of the most exciting things about our Telkom LTE packages (aside from the great network coverage) is the price!
We have compared the data prices of our two LTE products with some of our main competitors (below) and the results speak for themselves.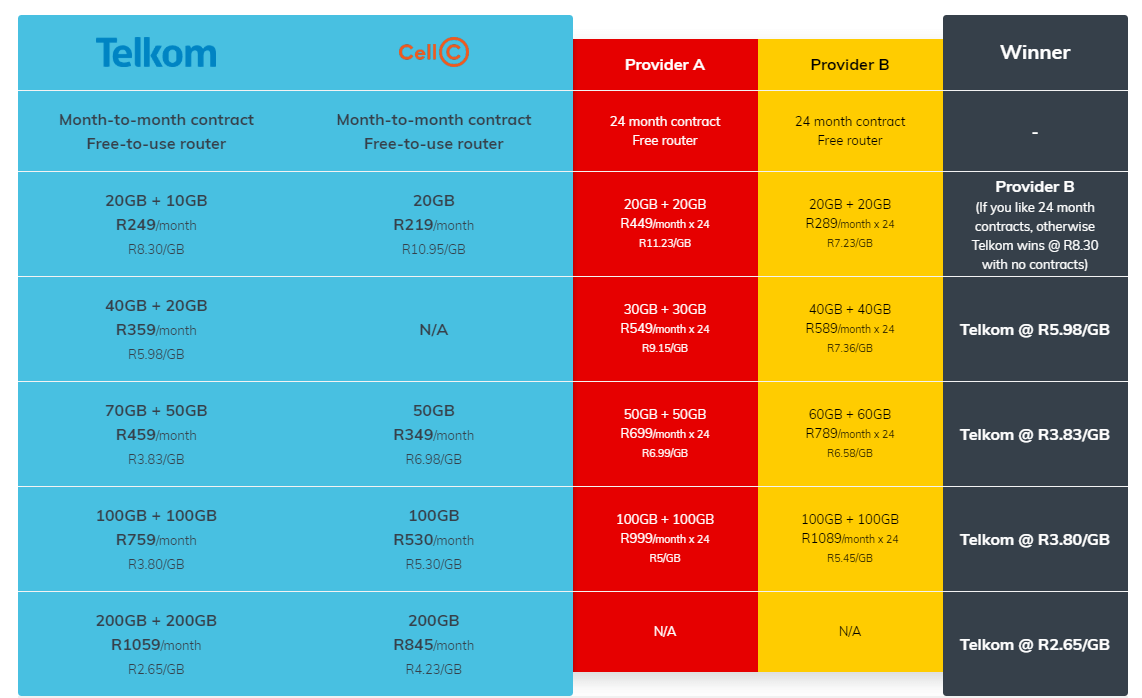 Free-to-use Routers
All of our Telkom LTE packages come with a free-to-use Huawei B525 router or a Huawei B315 router, depending on what we have available in stock. These routers will remain the property of Webafrica, and are fully insured by us, so if anything happens to it you can let us know and we will either fix it or replace it.
Welcome to the Webafrica Family
When all is said done, we are ecstatic to welcome the Telkom LTE network to the Webafrica family.
Please note: All Webafrica deals and packages are subject to change without notification. These include our terms and conditions as it relates to costs and deal/package structures for all of our service providers.